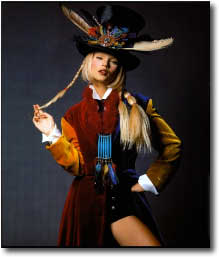 Born in Istanbul, Rifat Ozbek grew up in this magical Turkish city, living there until 1970, when he moved to England to study architecture.
Later in London, Rifat discovered his interest in fashion design. His talent was immediately recognized and he made a decision to pursue a career in fashion.
In 1976 he graduated with honors from St. Martin's School of Art in London and in 1984 started his own company under the Ozbek label. Working from his apartment he took London by storm, creating a series of small collections with strong themes which were inspired by movies, books, and London's youth culture.
His flair and style were soon acknowledged by the press and the most important international fashion retailers. Today his collections have gained worldwide approval and he has acquired a distinguished and celebrated following.
Mysterious and reserved, Rifat Ozbek is highly protective of his privacy. His rapid rise to fame has produced a popularity from which he shrinks, preferring a simple lifestyle which is highly unusual in the glamorous world of fashion design.